Mr. Dang Tuan Dung & Ms. Nguyen Thu Thuy (Vietnam)September 2019 - August 2021
Mr. Abror Mirzo Olimov (Uzbekistan)September 2018 - August 2020
I have always dreamed of studying abroad at one of the best universities and expanding my academic and professional knowledge. In 2018, my dreams came true and I was honored to be a recipient of the ADB-JSP to study master's degree at Hitotsubashi University (HIT), one of the top universities in Japan.
Two years of studying and living in Japan taught me a lot, and I gained valuable knowledge in the field of public policy, which greatly broadened my perspective on governance, politics, and economics. The HIT professors taught us the best practices and strategies from both developed and developing countries through their insightful lectures, profound knowledge and discussions.
With the support of the ADB-JSP scholarship, I put my best effort to gain a rich knowledge and was honored with "The Best Thesis Award" among the highly competitive students. In addition to knowledge, I made many friends from all over Asia and learned a lot from different cultures and traditions.
After returning to my homeland, to Uzbekistan, I was promoted, and now I have the opportunity to apply the knowledge gained from my professors for further economic reforms in my country. I would like to express my sincere gratitude to the ADB-JSP, Hitotsubashi University and my professors for giving me a life-changing opportunity and facilitating my life in Japan.
Ms. Yadanar (Myanmar)September 2005 - August 2007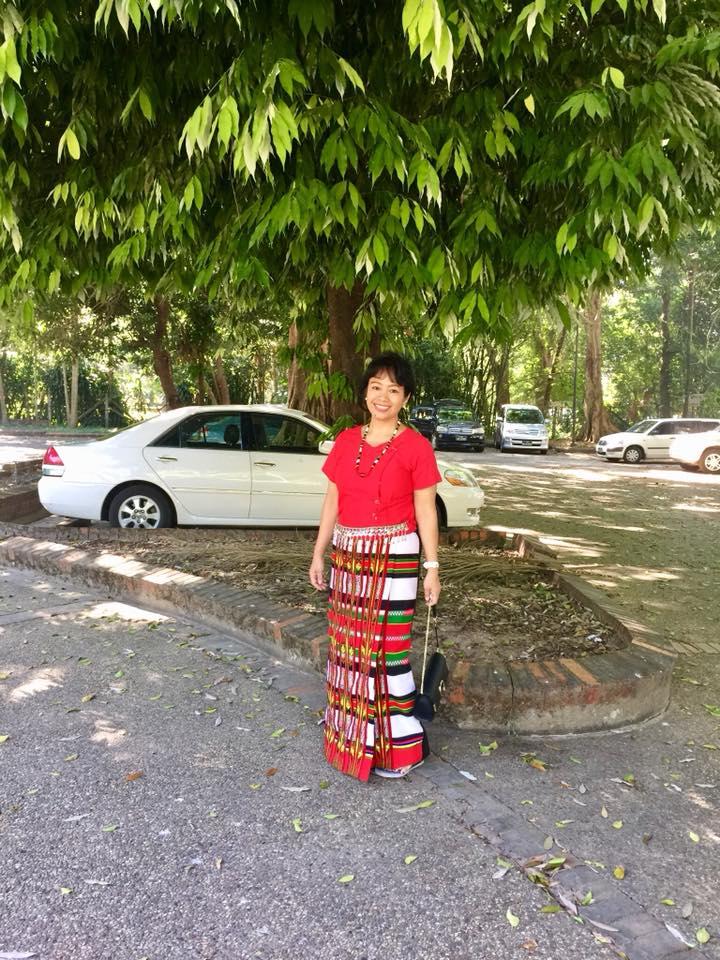 My name is Yadanar (in English it means Treasure). I am the very first Myanmar student for the APPP program. I joined APPP in 2005. After 2 years of study, I graduated in 2007.
As Japan is the country I stayed for 2 years (the longest duration of staying abroad), I feel Japan like my second home. Thankfully, I happened to travel Japan from time to time after finishing my study, so far it have been 5 times (in 2010, 2011, 2014, 2017 and 2018) already and have a plan to go there again in 2019. I am so fortunate that I get the chance to go back to the country I love with my heart.
I am now a Director at the Customs Department, Myanmar. When I studied at the APPP, I worked for the Internal Revenue Department. After coming back from APPP, I moved to Customs Department. After one year assignment at the World Bank, Washington D.C., I have been attached to the Minister's office till now.
I am very grateful to the APPP where I earned not only Master degree, but also lifelong friends. I had sweet memories with them in Japan. They are more like my siblings. We have been keeping in touch by email and also on Facebook. Last year, they visited me and I was extremely happy to see them after a decade apart. At APPP, we studied till midnight at the library and came back to our dormitory together by train. Whenever I remembered that sweet memory, I missed my friends so badly.
Studying at APPP is actually not an easy job. We had to work so hard. Thus, after graduation, as we passed through the hard times, we did feel like we can face with any kind of hardship and any kind of difficulty. We become very confident. Thank you APPP for equipping us such kind of belief in ourselves.
To those who are joining APPP, I would advise you to prepare well both mentally and physically. Enjoy student life with your classmates. After graduate, I bet you will become a strong and capable person by all means.
Mr. Mauro E. Jasmin (Philippines)September 2008 - August 2010
I am currently a Bank Officer V (Senior Bank Economist) at the Financial Markets Research Group (FMRG) of the Department of Economic Research of the Bangko Sentral ng Pilipinas (Philippine central bank). My responsibilities are centered on carrying out research and quantitative analysis in the broad areas of monetary policy and financial markets research. My work responsibilities are primarily geared towards research on key financial markets (e.g., stock market, foreign exchange, and bond market) as these impact on the BSP's monetary policy operations, strategy, and decision. My tasks include analyzing economic and financial data, writing discussion notes and technical papers and preparing presentations, specifically on issues and concerns relating to the inter-linkages of financial markets, corporate leverage, monetary policy and the economy. In addition, I prepare answers to questionnaires and issues for discussions to be incorporated in the briefing notes and position papers for the technical and high-level meetings of authorities with the International Monetary Fund, Bank for International Settlements, among others.
I would consider the two years of my stay in Japan as one of the best experiences in my life. I am proud to say that most of these memories were spent when I was still a graduate student at the APPP program. I can compare my memories at the APPP as having a one big family. My professors and the staff served as my parents and my classmates as my siblings. During my studies, our professors stood as our parents who thought us their wisdom and guided us to make sure that we were able to learn and finish our studies. I want to mention our Program Manager during that time, Ms. Yuri Okamoto, who acted as our second mother at APPP. Yuri-san made sure that the needs of the students were fulfilled and just like a true mother, she never failed to give us advice and made sure that students abide to the highest standards to rules set by the university. Meanwhile, my classmates were able to develop a good support system which helped us survive the difficulties of graduate studies.
While it is true that academic life is difficult, we never forget how to enjoy and relax. People at APPP know how to have fun. I remember looking forward to the "party" at school celebrating someone's birthday, having a seminar dinner outside the campus, and attending social gatherings organized by the school. The teambuilding that we held every start of the school year was also a fun and learning experience as this was an avenue to develop camaraderie and to learn more about your classmates and senseis.
I believe the biggest advantage of studying at APPP is having a set of top caliber professors and highly competent staff. I am very lucky to have been taught by the professors who are considered experts in their fields. Most of the professors have experiences working at the government, research institute, or multilateral institutions which are big advantage since they can provide discussion on subjects or topics based on theory and practice. The program also invites guest faculties from other renowned universities in Japan and abroad which provide diverse learning experience.
In terms of the subjects offered, the program caters to students of varying background. Students coming from various background such as central banks, ministry of finance, or planning agencies will have the advantage of choosing a diverse set of subjects based on their work background. Overall, I believe the program provides a holistic approach to teaching and students will become well rounded in various aspects of public economics when they finish.
For those students who are joining the APPP, I advice them to fully harness and maximize the opportunity given to them to pursue graduate studies at this prestigious university. I also advise student to be like a "sponge" in way that one should absorb everything that they learn from school as they will be able to apply the learnings when they come back to their respective countries.
Lastly, do not forget to enjoy your stay at Japan. With proper time management, make sure to explore the beauty of this country and learn the culture of Japanese people.
Ms. Myint Zu Soe (Myanmar)September 2013 - August 2015
Prior to my studies in Japan, I worked as a research officer for the Central Bank of Myanmar (CBM) since 2008. In 2013, I had a chance to pursue a master's degree for Public Policy (Public Economics) at the Asian Public Policy Program (APPP), Hitotsubashi University thanks to the support of the ADB-JSP scholarship and Japanese Government. After graduating in July 2015, I resumed work at the CBM, and then in August 2016, I promoted to Assistant Director, head of monetary statistics section under Research and Statistics Department. At present, I have been contributing all my knowledge and skills for forecasting and policy analysis and teaching the junior staffs at in-house trainings. Moreover, I am participating in the Myanmar Macroeconomic Framework as a core group member, and Macroeconomic Forecasting and Financial Statistics Cluster as a joint secretary.
During the two years study in APPP, I had learned a lot particularly in the concepts of macroeconomic theories and practices, fruitful policy analysis tools, useful econometrics and related governments' policies. In addition, I enjoyed and benefited much from the social experiences in Japan especially for endless friendship, exchanged views and traditional foods among my friends, unforgettable experiences in hanami cherry blossoms, taking pictures, and travelling around to explore different areas and cultural activities including the foods. Indeed the APPP totally changed me to become a mature one with sound understanding of fruitful knowledge and analytical skills. And one of the memorable events in APPP life was that I received such great opportunity to present my thesis at the 8th ADB-JSP Research Forum. Moreover, the knowledge and exposure I gained made me very confident with high degree of motivation in my organization, and provided me able to add these concepts in my job. Thus, I am very proud to be the output of APPP. For the new APPPers, I want to suggest you to keep on hard working as much as you can especially for the first three months. After that you used to be familiar with the APPP life. Never give up easily for the goals. Based on my experience, time management is very important, thus keep your time good balance of the academic area and social activities. Taking this opportunity, I wish to convey my heartfelt gratitude to my professors and the APPP for taking me become who I am today.